Improvements in Early Grade Literacy
We provide government school children in sub-Saharan Africa and South Asia with the opportunity to rapidly increase their English literacy skills with Jolly Phonics - a world leading, effective, fun and multi-sensory synthetic phonics programme. Our projects persistently achieve improvements in children's literacy learning outcomes and teachers love the Jolly Phonics methodology. Find out more below.
See Jolly Futures Learners Reading Fluently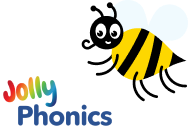 Jolly Phonics is the world's leading systematic synthetic phonics programme. Synthetic phonics involves teaching the main 42 English letter-sounds in isolation, whilst simultaneously teaching children how to form, blend and segment these sounds to read and write words. Children are also taught "tricky words" that do not follow the sound system.
The programme was created by international reading experts Sue Lloyd and Sara Wernham and is published by one of UK's leading educational publishers, Jolly Learning Ltd. With Jolly Phonics, the synthetic phonics skills are taught alongside culturally appropriate stories, songs and actions that make learning to read and write multi-sensory, child-centred and lots of fun!
Why Teach Literacy Through Systematic Synthetic Phonics?
Systematic synthetic phonics is very effective because it provides children with the skills needed to crack the code of the English language. By being taught on a daily basis, these skills are reinforced until they become automatic for the child. By focusing on the systematic teaching of core literacy skills, rather than on memorisation, synthetic phonics works for all children.
Indeed, systematic synthetic phonics has been proven to be the most effective method for teaching children how to read and write in English and is equally as effective for children learning English as an additional language as it is for children learning English as a first language. There have been extensive studies and systematic reviews proving this time and time again.
Download Reference List
Our Projects Rapidly Improve Literacy Learning Outcomes
With a high-quality programme based on a proven approach, it is no surprise that our projects persistently achieve improvements in literacy learning outcomes, usually much more so than other local literacy interventions! Here is a snippet of some of our results, and you can read much more on our Projects and Impact pages.
Akwa Ibom State, Nigeria
In our first ever Jolly Futures pilot study, which took place in 5 schools in Akwa Ibom State, Nigeria in 2006-2007, we found that children taught with Jolly Phonics gained an average of 10 months on their reading age within just a 9-month period, whereas children taught with conventional methods gained an average of 0 months.
Download Report
Eastern Cape, South Africa
In a short 6-month pilot in 12 schools in the Eastern Cape, South Africa in 2018, the Jolly Phonics group's reading age improved by an average of 16 months but the Control group's reading age improved by an average of only 8 months, highlighting that Jolly Phonics resulted in reading age improvements at a pace that was twice as fast. Also, despite being matched at the baseline, there was a statistically significant difference between the two groups at the end of the study on a range of literacy tests, including letter sound knowledge, word reading, sentence reading and dictation.
Download Report
Kilifi County, Kenya
Pupils in 5 Jolly Phonics schools in Kilifi Township could read an average of 24 more sounds and 21 more words after being taught Jolly Phonics for 10 months, in comparison to pupils in 2 control schools in the Township who could read an average of just 9 more sounds and 5 more words at the end of the period. This represented a reading age change difference of 19 months.
Download Report
Lusaka and Copperbelt Provinces, Zambia
In a pilot study conducted in government and community schools in Lusaka and the Copperbelt, Zambia, in 2019, Jolly Phonics was found to have made statistically significant improvements on Grade 3 learners word reading abilities in both English AND Zambian languages. Despite being matched at the pre-test stage, in the English post-test, the mean score for the experimental group was 29.57, equivalent to a reading age of 6 years 9 months, and the control group mean was 17.96, or 6 years 1 month, which is a difference of 8 months. Similarly, the mean score in Zambian languages for the experimental group at the post-test stage (6.81) was significanyly better than the control group (4.93), despite again being matched at the pre-test stage.
Download Report
What do Teachers Say About Jolly Phonics?
We always get great feedback from teachers around the world that are using Jolly Phonics. Typical comments refer to the fact that it is "easy", "fun" and "quickly effective". Here are some comments made by Grade 1 teachers trained as part of the Jolly Futures Programme:
"Jolly Phonics is so fantastic. My pupils learn so easily with it and we all have fun together! The children now call me Jolly Auntie and sing the songs and do the actions during play time together."
Patience, Nigeria
I like Jolly Phonics because it assists the pupils to learn pronounce the sounds correctly. It helps even the weak learners. Last year 3⁄4 of my pupils in class 1 could not even read 'cat' but after using Jolly Phonics all my class can read so well."
Madam Mwanasha, Kenya